Welcome to ARC Roofing LLC: a Chalmette Roofer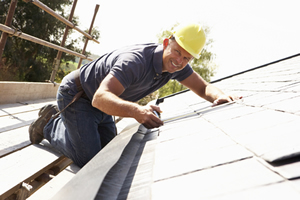 With over 20 years of experience in the Chalmette roofing contractor business, ARC Roofing LLC is the company you can trust for competent Chalmette roofers that can take care of all your roofing needs. We are a fully insured, state licensed, and a GAF Certified Chalmette roofer, and we are always available to take care of your roofing needs.
Our Chalmette roofers offer primarily residential roofing services, however we also offer some commercial roofing services to ensure we are able to meet the roofing needs of homeowners and businesses throughout our community.
Our dedicated Chalmette roofing specialists provide knowledgable, high quality work through new roof installation, roof replacement, roof repairs, flat roofing, GAF roofing shingles, and custom flashing. When you hire ARC Roofing LLC as your Chalmette roofer of choice, you can rest assured that our roofers will complete your roofing project to your complete satisfaction. Excellent customer service is just one of the benefits you'll get when you let ARC Roofing LLC be your Chalmette roofer. Call us today to find out more, and experience for yourself the difference hiring a true professional for your Chalmette roofing needs can make!
ARC Roofing LLC - Chalmette Roofing Contractor
Our team of expert Chalmette roofing contractors have years of professional experience in the roofing industry and take great pride in the work they do for our clients. From roof repairs to thorough roof inspections, roof replacement, and the installation of various types of roofing (including tile roofing, metal roofing, flat roofs and asphalt shingles with custom flashing). No matter what the project, or the scale, you can rely on our Chalmette roofing contractors to get the job done with precision and ease.
We pay close attention to detail, ensuring you get a quality product and the type of service you would expect from a professional Chalmette roofing contractor with a reputation for the highest level of craftsmanship and expertise. From our constant communication to our level of planning, clear pricing and cost effective roofing solutions, we guarantee you'll be satisfied with the results!
Chalmette Roof Repairs
Roof repair is a conscious decision, and as much as Chalmette roofers might try and convince you, a roof replacement is not always necessary. If water damages and leaks are heavy, then roof replacement is necessary. However, many time hiring professional Chalmette roof repairs specialist, like ARC Roofing LLC, is all you need.
Chalmette roof repairs are necessary, and the more you put off getting necessary repairs taken care of, the more it will cost you - in terms of money and and the overall look and structural integrity of your home in Chalmette. The key is to keep check of the slightest changes in the roofing structure of your home and invest in Chalmette roof repairs when necessary. Our Chalmette roofing contractors can help you with the decision, regardless if its repairs or replacement, and ensure you get what's right for your specific situation and budget.
Was your house affected by the latest hail storms? Find out! At ARC Roofing LLC we offer FREE Hail Damage Inspections, and we are insurance claim specialists.  If your roof has been hit with damages, give us a call. We are ready to take care of all your Chalmette roof repairs, and the sooner you address them, the less extensive the damage will be to repair.
Chalmette roofing contractor
Chalmette roofer
Chalmette roof repairs
Chalmette roof replacement
Chalmette roofing service
Chalmette metal roofing
Chalmette roof inspection
Chalmette roofing shingles
Chalmette roofing
Chalmette flat roofs
Chalmette tile roofs
roofer in Chalmette
Chalmette Roofing Shingles
When it comes to Chalmette roofing, there are many options available. Among these options includes asphalt shingles. Chalmette roofing shingles happen to be one of the most popular roofing options. They offer several benefits which include easy installation, affordability, versatility, and stylish good looks. Furthermore, roofing shingles don't require any specialized accessories for the roof edges, wall terminations, and chimney or vent flashings.
Chalmette roofing shingles traditionally come in 3-tab profiles. However, you will now see newer homes that have steeper roof pitches coming in laminate shingle profiles. A wide range of "architectural" shingles are available, whose profiles suggest the random shadows and patterns of slate, wood shingles, or ceramic tile. Furthermore, you should know that there are also two kinds of asphalt shingles on the market which include fiberglass shingles and organic-mat shingles. Both types are made with asphalt.
Quality and durability are important factors to consider with roofing materials. Asphalt shingles should come with a wind warranty. Quality Chalmette roofing shingles tend to have anywhere from a 60 mph wind warranty to a 110 mph wind warranty. Keep in mind, however, that warranties are a marketing device and are not a reliable predictor of lifespan. To ensure quality, be sure to demand shingles from your Chalmette roofing contractor that meet industry manufacturing standards. New shingle products are designed to resist some types of weather damages, and several manufacturers are now offering roofing shingles designed to resist the effects of severe weather such as wind and impact from flying debris or hail. Make sure that you do your homework before selecting just any Chalmette roofing shingles for your roof.
It's easy to find a shingle that will suit your home because there is such a wide range of colors and patterns available to choose from. If you find yourself having a hard time selecting one that will best suit your home, consider asking a professional Chalmette roofing specialist to help you out. They can usually direct you to homes that have examples of different shingles. Seeing the shingles on real homes gives you a much better idea of what to expect.
The Services We Provide in Chalmette, TX
If you are looking for a reliable Chalmette Roofing Contractor then please call 504-834-8999 or complete our online request form.