Southern Louisiana Tile Roofing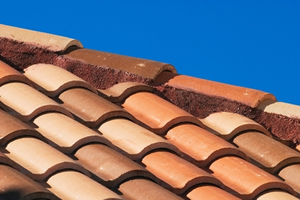 If you are looking for a tile roofing expert in the Southern Louisiana area, ARC Roofing LLC is the company for your project. From installing tile roofs to repairing and replacing damaged concrete and clay roof tiles, our Metairie tile roofing contractors have years of expertise and the qualifications to ensure your tile roofing project is completed on time, within budget, and with the type of high quality results you expect from this classic roofing material.
Whether you decide to go with concrete or clay roof tiles, it is imperative that the structure of your home have enough support to hold up this type of roofing. While there are some lightweight tile roofing solutions available, most standard clay tile roofs are heavy enough to require additional support to ensure the structure of the house is kept intact and the homeowners don't end up with a roof that caves in - a situation that is not only expensive to repair, but dangerous!
This is why it is important to hire a suitable professional for your tile roofing needs in Southern Louisiana. At ARC Roofing LLC, we are the Metairie roofing contractor you can trust to install your new tile roof correctly. We are fully licensed and insured by the state of Louisiana, and with over 20 years of experience in the roofing industry, you can count on us for the highest quality results. Let us advise you on the various aspects of tile roofs today, and see what our Metairie tile roofing specialists can do for you.
Our Metairie Tile Roofing Contractors Offer These Services
Tile Roofing
Concrete Roof Tiles
Clay Roof Tiles
Roofing Tiles
Clay Tile Roofs
Concrete Tile Roofs
Tile Roof Repair
Roofing Contractor
Roof Replacement
Tile Roofs
Roof Installation
Roofer
We Provide Tile Roofing in the Following Towns in Louisiana
Jefferson Parish County - Marrero, LA | Gretna, LA | Belle, LA | Chasse, LA | Chalmette, LA | Algiers, LA | New Orleans, LA | Metairie, LA | Mandeville, LA | Covington, LA | View More Service Areas
Recent Articles about Tile Roofing
METAIRIE ROOFING SOLUTIONS: WHAT IS THE RIGHT ROOFING MATERIAL FOR MY HOME? - Your choice of roofing material will affect both the external appearance of your Metairie area home and the comfort of your family inside the home.  Metairie roofing materials are important in energy conservation, comfort, and the appearance of your home.  Your choice of material for a re-roofing project or for a new roof on a…
METAIRIE ROOFING SHINGLES: LEARNING A FEW OF YOUR BEST OPTIONS - If you are currently in search of the best roofing shingles in the Metairie area, then it is advisable for you to take a few essential factors into consideration before you purchase.  Among these are whether you intend to use the shingles for residential or commercial purposes, the climate in the area where you intend…
If you are looking for a Metairie Tile Roofing Contractor then please call 504-834-8999 or complete our online request form.