Southern Louisiana Metal Roofing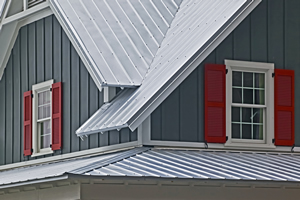 ARC Roofing LLC is a Metairie metal roofing contractor with over 20 years of experience installing new metal roofs and repairing damaged metal roofing in Southern Louisiana. When you are looking for a trustworthy Metairie roofing contractor to install or repair your metal roofing, be it standing seam metal panels or metal shingles, look to the experts at ARC Roofing LLC for your roofing needs. Our licensed and fully insured roofing company is known for providing homeowners and commercial clients with high quality roofing products and excellent customer service. We work to complete our job to your satisfaction, ensuring you get exactly what you want from our cost effective metal roofing solutions.
Metal roofing offers homeowners and businesses a durable roofing option that can withstand the harsh weather that frequents the Southern Louisiana area, all while retaining a beautiful style that sets any building apart from the rest. Our selection of metal roofing products come in a variety of styles and colors, too, making it easier to get the look you want. From metal panels to metal shingle that are made to look more like standard roofing yet provide a much more durable construction and long lasting protection from the elements, you are sure to find what you are looking for at ARC Roofing LLC.
Our Metairie metal roofing contractors offer residential and commercial roofing services including metal roof repair, roof replacement, and installation of new metal roofs. Whatever your metal roofing needs are, you can rely on the expert roofing contractors at ARC Roofing LLC to take care of it.
Services Our Metairie Metal Roofing Contractors Offer
Metal Roofing
Steel Roofs
Metal Panel Roofing
Standing Seam Metal Roofing
Metal Roof Repair
Metal Shingles
Metal Roofs
Roofer
Roof Installation
Roof Replacement
Metairie Metal Roofing
Roofing Contractor
We Provide Metal Roofing in the Following Towns in Louisiana
Jefferson Parish County - Marrero, LA | Gretna, LA | Belle, LA | Chasse, LA | Chalmette, LA | Algiers, LA | New Orleans, LA | Metairie, LA | Mandeville, LA | Covington, LA | View More Service Areas
Recent Articles about Metal Roofing
METAIRIE ROOFING SOLUTIONS: WHAT IS THE RIGHT ROOFING MATERIAL FOR MY HOME? - Your choice of roofing material will affect both the external appearance of your Metairie area home and the comfort of your family inside the home.  Metairie roofing materials are important in energy conservation, comfort, and the appearance of your home.  Your choice of material for a re-roofing project or for a new roof on a…
CHOOSING A PROFESSIONAL ROOFING CONTRACTOR FOR METAIRIE ROOF REPLACEMENT - Time will surely come that we need a new roof for our homes. Extreme weather conditions could be very intense, and our roofs are openly exposed to these dangers. When it comes to roof replacement, it is crucial to select a professional Metairie roofing contractor with many years of experience and skills to complete the…
If you are looking for a Metairie Metal Roofing Contractor then please call 504-834-8999 or complete our online request form.