Southern Louisiana Roofing Shingles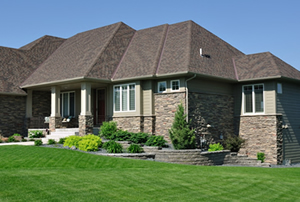 At ARC Roofing LLC our Metairie roofing contractors are efficient, precise and provide quality craftsmanship for each and every installation of shingle roofs in the Southern Louisiana area. As a GAF Certified contractor, ARC Roofing LLC provides only the best in shingle roofing products and installation.
When you want a roof composed of asphalt shingles, ARC Roofing LLC is the Metairie roofing shingles expert you can count on to get the job done correctly and efficient. We offer clear pricing, cost effective solutions, and realistic project schedules. Our roofers listen attentively to your needs, address any concerns you may have about your roofing project, and make sure to stay in constant communication with you so that you know exactly what's going on with your project.
Roofing shingles are one of the most popular types of roofing material in the country, partially due to their wide spread availability and affordable price ranges. While some contractors will try to push a faulty product on you, you can rest assured that our asphalt shingles are of the highest quality and weather resistance. Our roofing shingles come in a wide range of colors and styles, too, allowing homeowners to truly customize the look of their home's exterior with roofing that enhances the curb appeal of the the rest of the house. You are sure to find shingles that will suit your need, style preference, and budget when you choose ARC Roofing LLC to serve as your Metairie roofing contractor.
Services Our Metairie Roofing Shingles Contractors Offer
Asphalt Shingles
GAF Shingles
Roofing Shingles
Roof Repair
Roof Replacement
Roof Installation
Roof Shingles
GAF Roofing Contractor
Shingle Replacement
GAF Roofing Shingles
Shingle Roofing
Roofer
We Provide Roofing Shingles in the Following Towns in Louisiana
Jefferson Parish County - Marrero, LA | Gretna, LA | Belle, LA | Chasse, LA | Chalmette, LA | Algiers, LA | New Orleans, LA | Metairie, LA | Mandeville, LA | Covington, LA | View More Service Areas
View Completed Project Photos of Roofing Shingles in Metairie
Recent Articles about Roofing Shingles
METAIRIE ROOFING SHINGLES: LEARNING A FEW OF YOUR BEST OPTIONS - If you are currently in search of the best roofing shingles in the Metairie area, then it is advisable for you to take a few essential factors into consideration before you purchase.  Among these are whether you intend to use the shingles for residential or commercial purposes, the climate in the area where you intend…
METAIRIE ROOFING SOLUTIONS: WHAT IS THE RIGHT ROOFING MATERIAL FOR MY HOME? - Your choice of roofing material will affect both the external appearance of your Metairie area home and the comfort of your family inside the home.  Metairie roofing materials are important in energy conservation, comfort, and the appearance of your home.  Your choice of material for a re-roofing project or for a new roof on a…
If you are looking for a Metairie Roofing Shingles Contractor then please call 504-834-8999 or complete our online request form.