Southern Louisiana Slate Roofing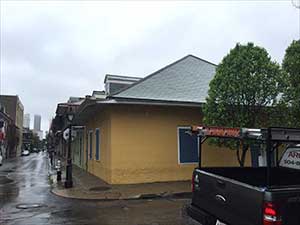 Slate roofing is one of the most durable and long-lasting roofing materials there is. On top of that, it's also one of the most attractive.
At Arc Roofing LLC, our Metairie roofing contractor provide slate roofing installations, restorations, and repairs. Slate roofing systems can be very beneficial to your home, and our professionals can help you keep your slate roofing in the best condition possible at all times.
Because slate roofing is so attractive, it can have a great effect on your home's curb appeal, and because it's so durable, it can significantly increase your home's resale value. Slate tile will make your home more attractive while providing it with excellent protection. It will add a distinctive appearance to your home, and it will provide you with a number of other great benefits.
Benefits of Slate Roofing
When you decide to have slate roofing installed at your home, you'll be able to choose from a wide variety of custom colors, patterns, and textures. You'll also receive the benefits of weather resistance and lower energy costs.
Slate roofs are extremely durable and resistant—they can withstand winds of up to 130 mph. They also require very little maintenance, and they're very environmentally friendly. If you do encounter any problems with your slate roofing, our Metairie roofing contractors will be able to help you repair it quickly and professionally.
Slate roofing is also fire-proof and non-combustible. Plus, after you have your slate roofing installed, you'll immediately begin to reap the benefits of lower energy costs as slate roofing tiles will insulate your home and reflect heat.
Lamarite Slate Composite Shingles
Lamarite shingles offer the beauty of slate with the high cost and performance issues. Lamarite slate composite shingles provide a superior have some advantages over real slate tiles:
Lamarite shingles are lighter in weight.
They are more resistant to cracking and other damage because of inclement weather, so they require less maintenance and future repairs.
They have the benefit of being made from innovative composite materials that are robust, fire-resistant, and very durable.
Lamarite slate roofing tiles are formed to the specific textures and contours of real slate, which creates authentic dimension and beauty.
Slate Roofing Photos
Our Roofing Contractors Provide These Detailed Slate Roofing Services
Composite Slate Roofing
Slate Tile Roofing
Slate Roofing Tiles
Slate Roofing Systems
Slate Roof Repairs
Slate Roof Maintenance
Slate Roof Installations
Slate Roof Estimates
Slate Roofing Benefits
Slate Roofing Materials
Slate Roofing Quote
Slate Tile Roofing Shingles
Lamarite Slate Roofing Shingles
Slate Roofing Repair
We Provide Slate Roofing in the Following Towns in Louisiana
Jefferson Parish County - Marrero, LA | Gretna, LA | Belle, LA | Chasse, LA | Chalmette, LA | Algiers, LA | New Orleans, LA | Metairie, LA | Mandeville, LA | Covington, LA | View More Service Areas
Recent Articles about Slate Roofing
METAIRIE ROOFING SOLUTIONS: WHAT IS THE RIGHT ROOFING MATERIAL FOR MY HOME? - Your choice of roofing material will affect both the external appearance of your Metairie area home and the comfort of your family inside the home.  Metairie roofing materials are important in energy conservation, comfort, and the appearance of your home.  Your choice of material for a re-roofing project or for a new roof on a…
CHOOSING A PROFESSIONAL ROOFING CONTRACTOR FOR METAIRIE ROOF REPLACEMENT - Time will surely come that we need a new roof for our homes. Extreme weather conditions could be very intense, and our roofs are openly exposed to these dangers. When it comes to roof replacement, it is crucial to select a professional Metairie roofing contractor with many years of experience and skills to complete the…
If you are looking for a Metairie Metal Roofing Contractor then please call 504-834-8999 or complete our online request form.