Roofing Problems That Damage Your Metairie Roofing Materials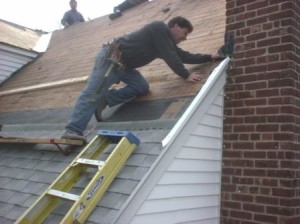 If you have common roofing problems like roof stains on your Metairie roof, there are things going on with your roof structure that you may not be aware of. Roof Stains are common enough, but only because so many homeowners aren't aware of just how damaging they can be and aren't aware that they can and should be fixed.
Roof stains occur for several reasons, all of which mean you need to have a professional Metairie roofing inspection done by a roofing professional. They are a concern for many people when organic substances grow on the roof surfaces because these substances destroy the roofing materials over time.
Your Metairie roof structure can get stains that look as if something has melted all over the roof or is streaking it in places. Sometimes stains can blacken or make your roof turn green in whole sections. It can also get a pink, redish, orangish or yellowish tint to it.
The growth of algae, moss, lichens, or fungus can cause roof stains. Moss is raised up and is more obviously a plant life form, but other types of fungal growth can be difficult to identify and may look as if your roof is melting away.
For asphalt shingles, algae feeds off the limestone and works to destroy the shingles over time. This can cause cracking and tearing.
Whether your roof structure is made of asphalt shingles, wood shakes, wood shingles, or roll roofing, moss and lichens can grow easily in the right weather and shade conditions. Areas of your roof that are particularly vulnerable are areas of shade with higher than normal average humidity in the region. Though these organic substances may seem harmless, they can and will destroy your entire roof if left to grow…it's only a matter of time.
When you replace shingles or the roof entirely, it's going to be best to use algae-resistant shingles, metal flashings, moisture resistant underlayments, good seals, and other materials that are meant to resist these types of roofing problems. The metal roof type and many new composite materials are the best options because they have built in resistance to algae, moss, mold and mildew.
You don't have to live with these types of roof problems on your Metairie roofing structure. Call about our roofing inspections today and we'll provide you with all the information you need about your roof structure and your options in handling your roofing stains. There are solutions that can be applied to rid your roof of algae and moss.
At ARC Roofing, we've helped many homeowners in the Metairie and nearby areas to handle roofing problems. Whether you need a few shingles replaced, need a professional roofing inspection, or need a roof replacement, you have a go-to roofing professional near you who can help.
More Tips on Roof Inspections
If you are looking for a Metairie Roofing Contractor then please call 504-834-8999 or complete our online request form.