My Roof Leaks – Do I Need Roof Repairs or Total Replacement?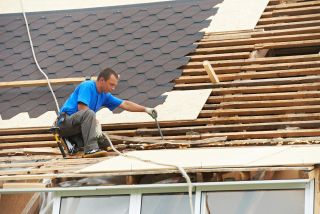 Being a homeowner comes with its fair share of perks. Of course, as expected, it also comes with a great deal of responsibility as well. One of the most important tasks is addressing your need for service for your roof.
This can be confusing though, because people are leery of some roofing contractors. Do you need roof repairs or total replacement? Get informed so that you do not have to worry about being swindled by a less-than-honorable roofing contractor.
Know What You Need & Avoid Unnecessary Work
Your roof is the most important aspect of your home. This is what protects the entire rest of your home from the elements. So it is of the utmost importance that you be able to keep it in tiptop shape. But how can you know if you really need replacement or if repairs would suffice?
Obviously, the severity of the situation has a great deal to do with what level of service you may need. A small single leak should be able to be repaired. A hailstorm leaving your roof riddled with holes would mean replacement.
Other factors paired with the leak also impact the decision making. For instance, if you have a leak but your roof is brand new, repairs maybe enough.
Consider the cost of repairs versus the current value of your rooftop. If repairs would be 50% or more than the current value of your rooftop, replacement may be the more financially viable offer.
The same could be said about the age of the roof. Know the life expectancy of your roof, based on the material being used. If you have an asphalt shingle roof that is 18 years old and spring a leak, it would make more sense to go ahead and upgrade to a new roof instead of paying for repairs.
Above all else, what matters the most, is that you find the right Metairie roofing contractor to work with, in order to get honest feedback and superior workmanship. A true industry expert will not steer you wrong. That's why so many locals have come to trust the ARC Roofing LLC name.
Our main focus is your service needs and our top goal is your satisfaction. We take this line of work seriously and that shows from the customer feedback we get.
We want to be a part of helping you get the best service for you roof. Let us help you get the roof repairs or total replacement you need and ensure you maximum performance and optimal longevity.
More Tips on Roof Replacement
If you are looking for a Metairie Roofing Contractor then please call 504-834-8999 or complete our online request form.