What Benefits Can a Flat Roof Offer Your Metairie Area Home?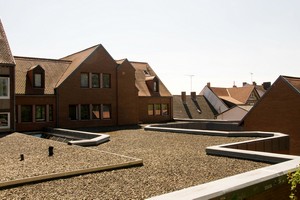 You may someday find yourself looking into a new house and considering one with a flat roof – and then perhaps immediately deciding against it because of its roof. That's understandable: Many homeowners are accustomed to more common pitched roofs and may be hesitant to commit to something so wildly different.
However, you shouldn't say no to a flat roof just because it's flat. After all, this roofing option offers an array of great benefits that you'll love to enjoy. Just keep on reading, and you'll discover all the great reasons why a flat roof is a great roofing option for your Metairie area home.
Low Cost of Installation and Maintenance
A roof is already a costly enough installation, so you need to find any ways you can to reduce the costs associated with it in any way you can. That's where a flat roof comes in. A pitched roof requires quite a bit of insurance to work on because of the relatively high risk of injury that it presents. A flat roof, on the other hand, is far safer to work on, making it far more affordable to maintain than many other roofing options.
More Usable Space in Your Home
Your home is more than just the place you return to every day so you can eat and sleep. It is also something of a palette for you to adorn with all manners of furnishings and decorations that reflect you and your taste and personality. Of course, to fully show off your "most you" you, you need to fit plenty of décor into your home. Since it doesn't encroach on any of the space in your home, a flat roof will provide the most usable space for adorning your home as you please.
Easier General Upkeep
Roofs get dirty: That's just how things go. When a roof becomes too dirty, its appearances and well-being can suffer. So, you'll want to stay on top of its upkeep. Of course, doing that can be difficult if you have a pitched roof – dangerous even. Or costly if you hire someone to take care of that work for you. With a flat roof, though, you can easily keep your roof in tip-top condition without the fear of taking one wrong step that sends you careening.
You Can Enjoy These Benefits by Calling Our Metairie Roofing Contractors Today
So, you know all the great ways that a flat roof can benefit your home, and now you want one? Great! All you have to do now is call ARC Roofing. Our Metairie roofing contractors have the experience and the resources to provide the work you need. Call us today if you're in the market for professional flat roof installation or maintenance work.
More Tips on Roof Types
If you are looking for a Metairie Roofing Contractor then please call 504-834-8999 or complete our online request form.