Is Metal Roofing A Good Choice For Metairie Homeowners?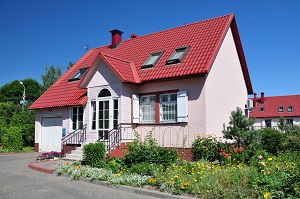 When you are looking at a roof replacement, you'll have many options in materials to choose from. Today's roofing choices are durable and protective, much more so than they have ever been in the past. In fact, many manufacturers will warrant roofing materials such as metal with a limited lifetime warranty. This means you can count on your new roof to withstand the tests of time.
Do you know what type of material your current roof is made of? The most common roofing material is the asphalt roof shingle. Asphalt shingles are also more durable than they've ever been before with the introduction of new inventions and technologies with fiberglass, rubber, and other substances.
You may currently have asphalt shingles on your roof, but if they are decades old the material is sub par by today's standards. Replacing your current roof with asphalt shingles is still a great choice for modern homes.
Your home may have other commonly used roofing materials such as wood shingles, clay, slate, terra cotta tiles, or concrete tiles. Knowing what is currently installed on your roof top will help you to determine what materials you may want to replace it with.
Cedar shakes are a great option in roof replacement if you want to create a more rustic look for your home. Similar to asphalt, cedar shakes are expected to last up to 30 years or so. They are made from wooden blocks that aren't uniform in size or thicknesses. Cedar shakes are commonly pressure-treated in order to make them resistant to fire. Painting or staining can change their appearance.
Concrete tile roofing is becoming more popular than it was in the past. They can mimic the look of slate, shake or terra cotta, but the concrete is a much more durable material.
Since architectural style is always important, many manufacturers offer materials that can match your home. You'll also want to consider things such as texture and color. You will have no problem choosing among these roof structures because over time the options have become wide open when it comes to architectural choices.
There are several choices in metal roofing as well. Metal roofs can literally last a lifetime and are warranted by the manufacturers with limited lifetime warranties. They offer such a good warranty because metal roofing materials are made to last and are one of the strongest roof structures available.
Metal roofing materials require very little maintenance as well. They reduce your energy costs when properly insulated and installed. The painted aluminum and steel roofing materials are made from recycled materials such as recycled drink cans.
Metal roof panels are baked with various colors and are backed with insulating fiberglass or sometimes foam. Tin is used in many areas of the U.S. and copper gives a beautiful antiqued appearance. Color options are wide open today, and since they are baked in you will never have to paint your new metal roof. However, if you want to paint, then you can opt for the type that is paintable instead.
If you install a new metal roof, you'll have protection from hurricane force winds, hail damage, UV rays, sun and rain damage, and more. Choosing the right material for your roof replacement isn't always easy, especially since you have so many great options to choose from. But this also means that whatever your choices, your new roof will stand up better to the elements than your old roof ever could.
More Tips on Roof Types (Metairie roofing contractor, metal roofing, metal roofs)
If you are looking for a Metairie Roofing Contractor then please call 504-834-8999 or complete our online request form.